Apply for PMKVY Training Center | Become PMKVY Training Partner
Rebirth Education & Research Foundation is accreditated Training Provider of NSDC for opening up Training Centers under Prime Minister Shri Narendra Modi's ambitious project PMKVY 2.0 under Skill India scheme. This project has total outlay of Rs. 32000 crore which has been earmarked to impart vocational skills to the unemployed youth of the country and provide them with meaningful employment. During the next 3 years (2016-2020) total funds of Rs. 12000 crore will be spent on training of around 1 crore youth in the age group of 18 to 35 years under the PMKVY scheme for the period 2016 to 2020.
Process of Affiliation of PMKVY Training Centre
PMKVY Franchise | Register for PMKVY training center
Rebirth Education & Research Foundation invites applications for establishment of "Training center" for various skill development projects such as, PMKVY, PMKK DDUGKY, MANAS, NDLM etc. Applicants have to apply in a prescribed format and they shall have to pay the application fee, as fixed by the "Accreditation and Affiliation committee" of NSDC for PMKVY.
Who Can Apply?
Individual, self aided/ self-financed institutions of higher and secondary education, registered societies, trusts, companies, etc., having the arrangement of competent counselors, basic infrastructure for class-rooms, laboratories, library, etc. may apply. The experience of operating the teaching institutions or programmes of study shall be preferred.
Basic and Mandatory infrastructure (All below listed are mandatory).
Minimum 1500+ Sq ft carpet area including office, classroom, lab( Computer and equipment), wash-rooms etc. Building should well Plastered, Color Distempered/Whitewashed.
Reception.
Counseling Area.
Administrator Cabin.
Placement and Entrepreneur Cell.
Classroom & Lab for Each Courses (Area of Classroom & Size varies,).
Mandatory Facilities.
Separate washroom facility for male and female trainees
drinking water facility
Health and Safety Facilities
Aadhar Enabled Biometrics attendance machine
CCTV Camera
Pantry(Kitchen)
Fan
Air-Conditioning in all classrooms((Optional)
Internet Connectivity min 1 MBPS or, 3G/4G.
Power Backup(UPS/Genset/Inverter).
Library Facility.
At least 10 Computers or, Laptops.
Laser Printer.
Web Cam.
Wi-Fi Network.
Fire Fighting Equipment.
First Aid Kit/Box.
Trainers Eligibility Criteria .
Qualification : Min. Graduate/ Diploma.
Experience : Min 2-3 years.
Center Staff Requirement.
Counselor.
Receptionist.
Center Administrator.
MIS coordinator/ Placement Officer.
Mobiliser.
Process Flow.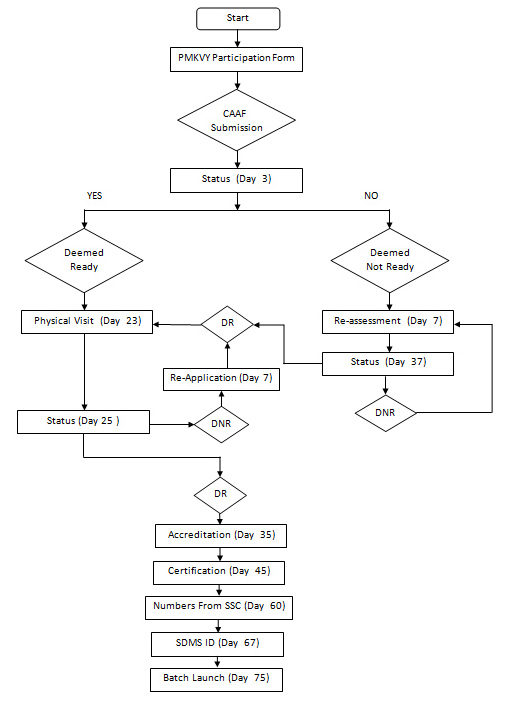 Charges Toward PMKVY Center (Affiliation Fess).
Application fees  : Rs 20000
PMKVY Affiliation fees : Rs 20000  (+1000 Rs. Per Job Role Extra.)
PMKVY Accreditation process fees : Rs 20000.
Continues monitoring fees (Yearly) : Rs 8000. 
The fees of Rs.60000.00 is to be paid over period of 3 Months as and when demanded by NSDC.This charges are for one job role and one sector.
Note:- Bank/Transaction charges to be paid as applicable.
PMKVY Targets Allocation Methodology
The PMKVY Targets may be allocated to the TC for a period of 6 or 12 months on the basis of the grading of centres; the capacity of centres with a provision for periodic review (Compliance and Performance) as per the Monitoring Guidelines of PMKVY. NSDC proposes the below methodology for allocating the targets to various TCs/ approved (or yet to be approved) under PMKVY 2016-20.
First Target Allocation
1. PMKVY Targets would be allocated for three months with monthly compliance review and quarterly performance review.
2. Shortlisting of centres: TCs approved by SSCs on SDMS would be eligible to receive the targets; TCs will be shortlisted to ensure sector and geographical coverage; Usable area greater than 1500 is mandatory.
3. TCs will be assessed and verified as per the Monitoring Guidelines of PMKVY.
4. Targets to be estimated by NSDC PMU basis centre capacity and to be allocated directly to the centres through SDMS.
5. Centre capacity would depend upon number of PMKVY classrooms; number of Job roles/SSCs affiliated to; number of course hours in a job role (approximately 200 hours), and number of certified trainers.
6. PMKVY Target allocation methodology is based upon the following assumptions: Number of Operating hours in a day: 8 hours Batch operational hours in a day: 4 hours (2 hours each for theory and practical) Job role-wise number of classrooms and labs, whichever is less Total number of hours for a job role as prescribed by the SSC
7. For every approved job role PMU will award targets for 3 months to the full capacity as self-declared by the training centres/partners and validated by monitoring team during the visits. This may get altered depending upon spare capacity and performance of the training centre during the interim reviews.
8. In case of non-achievement, targets will roll back and readjusted to better performing centres/partners subject to spare capacities.
Subsequent Quarters.
1. Centre accreditation and affiliation agency to share approved job role-wise requested capacity v/s actual capacity available for all the approved centers.
2. New targets to be allocated in the first half of the month on SDMS only to the affiliated and accredited TCs (exceptions in special areas or underserved geographies).
3. Centers accredited and affiliated within the first fortnight (15 days) of the quarter will be accounted in the same quarter, else in the subsequent quarter.
4. Any TC that undergoes first time accreditation and affiliation or re-accreditation and re-affiliation shall be allocated targets
PMKVY | CLASSROOM SIZE | EQUIPMENT | TRAINERS | COURSES LIST